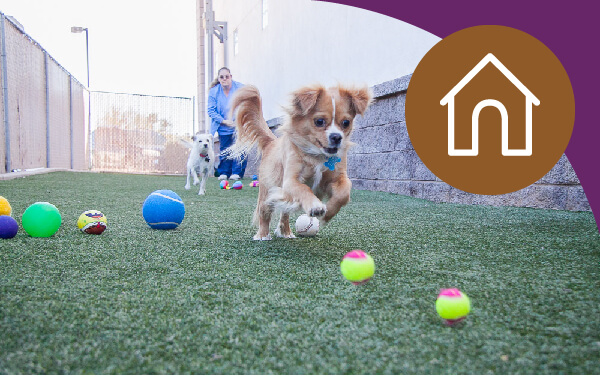 Let your pet play while you're away!
At Family VetCare, our boarding team provides a loving and caring environment for dogs, cats and small exotic animals. Family VetCare is your pet's home away from home, and we promise to make your pet's visit with us as enjoyable and refreshing as your own time away!
Family VetCare of Phoenix and Family VetCare of Mesa are both equipped with comfortable boarding facilities. Our boarding facilities are generously sized, and we offer exceptional amenities to our guests. Choose from a variety of special additions to your pet's stays, including: extra cuddle times, extra walks, off-leash play-yard time (Phoenix location only), daily hair brushing, baths, pedicures (nail trims), extra treats, one-on-one attention and much more. Our canine guests stay in spacious suites that can accommodate sibling pets together, while our feline guests take comfort in our cozy condos to ensure rest and relaxation while you are away.
WHAT MAKES FAMILY VETCARE DIFFERENT?
At Family VetCare, we have veterinarians and veterinary technicians available in the event a pet guest becomes sick or needs medical attention. Although this is rarely necessary, you'll rest comfortably knowing your pet has medical resources available. Our veterinarians and veterinary technicians are fully prepared to care for our guests' preexisting medical conditions during their stays as well. If your pet requires medications or treatments of any kind, we've got ya covered!
TAKE ADVANTAGE OF OUR "SHARE THE CARE" INCENTIVE!
When you refer a friend to Family VetCare, they get to select a complimentary nail trim, extra walk or extra cuddle time for their pet during their first stay with us. As a token of our appreciation, your pet will receive a complimentary nail trim during their next stay, too!
We encourage early reservations as our boarding facilities fill quickly, especially during busy travel seasons like the summer and around the winter holidays. Feel free to stop in and take a tour of our boarding facilities, available at our Family VetCare of Phoenix and Family VetCare of Mesa locations.
Schedule boarding at Family VetCare of Phoenix by calling: (480) 759-9494
Schedule boarding at Family VetCare of Mesa by calling: (480) 892-7958

MY BOARDING RESERVATION IS SET. NOW WHAT?
We are happy to supply all bedding, toys and food for our pet guests. We proudly serve Science Diet foods with puppy and adult maintenance foods available. Some pets' digestive systems function better on familiar diets, however. If you suspect this to be true for your pet, if your pet has a particular palatal preference, or if your pet needs a specific prescription diet, we encourage you to bring their regular food with them during their boarding stay.
If your pet is on any medications, we'll gladly administer them during your pet's stay with us. Please bring medications in their original containers to your pet's check-in appointment, and we'll handle everything from there!
For the safety of your pet and our other guests, your pet's vaccinations must be up to date prior to check-in. If any vaccinations are due or overdue, we're happy to provide them prior to your check-in visit. At your pet's check in, we'll provide a flea/tick treatment if you haven't already done so at home. If you regularly use a flea/tick preventive, please bring the original package with you and we'll note the date you last administered it. This is for the safety of all of our guests, and this way, we can ensure our guests don't leave us with extra pests!
If there is anything else we can do to make your pet's stay more enjoyable, please let us know. At Family VetCare, we strive to be your pet's home away from home, and we're looking forward to hosting your pets. We also hope you rest easy while you're away—your pets definitely will!
JUST NEED HELP FOR THE DAY? CHECK OUT DOGGY DAYCARE!
If you don't need overnight boarding but you could use some help with your pup during the day, check out our doggy daycare services. Your pet will lounge comfortably in our suites and will be taken outside throughout the day for fresh air and potty breaks. Doggy daycare is perfect for when it's not suitable to have your pet home during the day. Many of our clients utilize this service on landscaping, housecleaning, pool-cleaning and bug-spraying days so dogs can't escape or harm themselves or service professionals that are at your home. Others use daycare when they host daytime guests, have important work calls from home or are simply looking for a little R & R. Whatever your reason for needing doggy daycare, we're here and ready help.